I was standing on the Kent bound platform at Plumstead station earlier this week; a dishevelled and unclean looking bloke sidled up to me, reeking of white cider and BO. He said "I have just been let out of prison and need 90p towards my rail ticket". I knew this to be a lie; I do occasionally see blokes at the station who have just been released from Belmarsh; they all look similar - a pasty white "prison tan" and carry a plastic sack marked "HMP Belmarsh" with their possessions in it; they get a rail travel warrant and £34 in cash to see them on their way. Quite often they are met by a representative from the charity
St. Giles Trust
who try and get the ex cons back on the straight and narrow. This guy has been seen hanging round Plumstead High Street by me on many occasions. I told him where he could get off. Shortly thereafter, the train pulled in and I boarded. Moments later, the beggar boarded too. He once again came over and asked for cash, and again I told him to go forth and multiply, and he shuffled off. After arriving at Erith and doing a spot of shopping in Morrison's, I was homeward bound, only to encounter the begging scrote a third time. Seemingly oblivious to the fact he had waylaid me twice within little more than half an hour, he started into some cock and bull story about how he had lost his wallet and needed to get home. I reckon his memory was so fried by drink and drugs he had completely forgotten his previous two encounters with me.
The former car ferry
Folgefonn
, the oldest roll on roll off ferry in the world, and home of Erith Yacht club is heading for Norway to be restored to her former glory. The 72-year-old vessel, featured in the photo above which has been moored at Erith on the Thames Esturary since 1981, was towed to Tilbury on Wednesday to be loaded on to a heavy lift ship. Construction has started on the replacement, a purpose-built clubhouse ashore, bringing to an end Erith Yacht Club's long established practice of using floating headquarters. Norwegian preservationists plan to restore
Folgefonn
which was, when built in 1938, Norway's largest car ferry. She was licensed to carry 300 passengers and 20 cars, and remained in service within the Hardangerfjord area until 1978. Alterations made by Erith Yacht Club, included converting her wheelhouse and passenger area on the top deck to a bar, her car deck to a function deck with a stage and an adjoining galley, and her lower passenger saloon to a lounge and second bar. You can read more about the move and the yacht club
by clicking here
. Below is a photo showing the Folgefonn when she plied the Norwegian fjords before the start of World War II.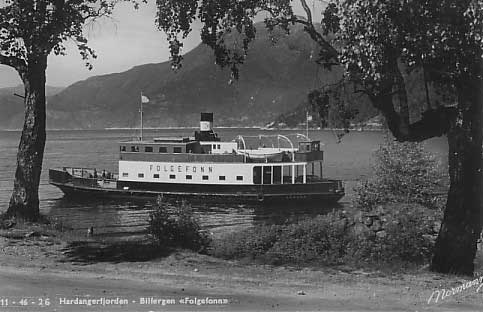 Radio Caroline
have been back on the air on 531KHz medium wave this bank holiday; they have had reception reports from as far away as Sheffield (from Tesco's car park, no less) which is not bad going since their special event licence only allows them a transmitter power of one Watt! They broadcast online and on Sky on channel 199, and pop up a few times a year on medium wave - usually over a holiday period. You can listen to them online
by clicking here
.
Occasionally I promote or highlight a piece of software that I feel worthy of more attention and use; Rather than spending an absolute fortune on Microsoft Office, why not give the excellent, free and open source Open Office suite a try? It is available by free download for Windows, Apple OS X, Linux and Solaris. The application is supported by some of the largest companies in computing, primarily Oracle and IBM, so it is from a reputable and reliable background. You can visit
the Open Office website here
.
Erith bar
Potion
have gone very quiet since they were found guilty of breaking various planning laws when they refurbished (i.e ruined) what had been the historical pub the White Hart, part of the Erith conservation area. More news as I find things out. Potion have a
website here
.
Next Sunday marks the return of the
Erith
River Festival; the event is well worth attending, and takes place in
Erith
Riverside Gardens from 10am onwards. The
Viking re - enactment people
are back, along with a hog roast, real ale, the Medway Queen paddle steamer will visit, and there will be 1940's music and fancy dress to commemorate the anniversary of D - Day. You can
read more about the event by clicking here
.
I see that there has been much media coverage of the UK launch of the iPad from Apple. I don't think I will be getting one myself - it seems to be pretty much a solution in need of a problem. It is very slick and no doubt many will buy the shiny tablet devices, but I always advise never purchase version 1.0 of anything - invariably one then ends up being the beta tester for the manufacturer.
I am not a fan of summer drinks per se; The kind of thing I like to drink suits me all year round. There's nothing wrong with a nice cup of tea, especially when served in my pint tea mug shaped like a pint jug, but made out of stoneware. Thanks to Ian for this excellent present. With that caveat, I have to admit to loving the TV adverts for Pimm's. I am not that keen on the sweet, gin based drink, but I think that their adverts are uniformly excellent - very English in a slightly surreal and cartoonish manner. The current advert appearing on UK television is embedded below if you have missed it elsewhere. They should pay me for this (and no, I do not monetise the blog - I get enough problems with spammers leaving unwanted comments for me to moderate as it is); as soon as you add commercials, it all gets far worse.