Another yacht on the Thames photo above; at the weekend
Erith Yacht Club
are usually busy on the river - as this shot of a vessel sailing down river towards Erith Pier, and the club house shows.
I recently bundled up all of my
DVD
collection and donated them to the
Ellenor Foundation
shop in Crayford. After thinking about donating something of value for a while, I decided that I should give them all of my
DVD's
, as currently they still have quite a bit of value (they were mostly mainstream Hollywood movies that will have a wide appeal and sell for a decent amount). I think that in the next year or so, the
DVD
will go the way of the video and audio cassette. I don't have much confidence or the hi definition
Blu-Ray
format; it does not seem to be taking off in anything like the same speed as
DVD
did back in the day. My own opinion is that
Blu-Ray
is the last physical media format. Pretty soon it will all be downloads, especially as broadband speeds increase with the expansion of the fibre optic data network. I recently have read quite a lot about the format wars between
VHS
and
Betamax
back in the early 1980's. From all that I have read, it became apparent that Sony, the creators of the Beta format were pretty much to blame for the demise of what initially was a far technically superior video format than the relatively pedestrian
VHS
system. The real
Betamax
killer was that for the first few years, the maximum length of recording was limited to one hour on Beta, whereas
VHS
could stretch to four hours, critically long enough to record an entire American football game (the lucrative mass American market both systems were looking to crack). Sony had the attitude of "We know best" as to what the market wanted, and ignored requests for features that quickly became standard with their competitors. Consequently
Betamax
is now considered alongside
the 8 - Track cartridge
as a dodo technology. You can read about the history of the video format war
by clicking here
.
This week has been
National Cask Ale Week
- an event to encourage people to try cask ales for the first time; something that may be difficult when one considers that the current government have increased the tax burden on real ales by a little over 25% in the last two years, despite their stated support for local pubs as a cornerstone of local communities. You can read more about National Cask Ale Week
by clicking here
.
By reason of a reminder, here are the details of the forthcoming Bexley Beer Festival:
Bexley's Fifth Beer Festival
8th - 10th April 2010
Crescent Farm, Sydney Road,
Thursday 8 th April 5pm - 11pm £2, CAMRA members £1
Friday 9th April, 11am - 5pm £2, CAMRA members Free
Friday 9th April, 5pm - 11pm £2, CAMRA members £1
Saturday 10th April 11am-11pm** £2, CAMRA members £1
**or until beer runs out.
All rights of admission reserved ; Don't drink and drive!
I have strong suspicions that the next series of
Top Gear
will be the last. Apart from rumours that all three presenters are getting sick of the format, another piece of evidence has come to my attention. Last Sunday morning, Richard Hammond was present when two giant industrial chimneys at Northfleet were demolished with explosives by a team from local company
Erith Construction
. The
Top Gear
"Reasonably Priced Car" , a
Chevrolet Lacetti
, was also present - at the base of one of the chimneys, where it was filmed being blown to smithereens and the remains crushed by the falling masonry. If the car has got the chop, I wonder if the series has too?
Incidentally, Erith Construction are based in what used to be the old Erith Job Centre, only a couple of minutes walk from Pewty Acres; they were one of the first companies to migrate onto
Google Applications
, and have now become a famous test case for cloud based enterprise applications.
You can see a video about it here
.
An amateur video of the chimney demolition event is shown below. There are many more videos of the detonation
on YouTube here
.
It is a never ending source of amazement as to how people treat mobile telephones. Almost on a daily basis, I will be sitting on a bus or train when I am subjected to the most intimate and personal details of the lives of other passengers. Don't people realise that they are in public when they talk to friend and family on their cellular telephone? Only last week I was on the 99 bus towards Erith; sitting diagonally opposite me was a woman with a pram and toddler. Her phone rang and she proceded to have a detailed conversation with her mother, who had evidently rung because the Police had been round to arrest her for breaking her bail conditions for an unspecified offence. The criminal woman was screeching into the phone handset "They'll do me now!" making it clear to all and sundry that she was a crook - if she had been more restrained then her fellow passengers would have been none the wiser. Quite an interesting reality soap show I suppose.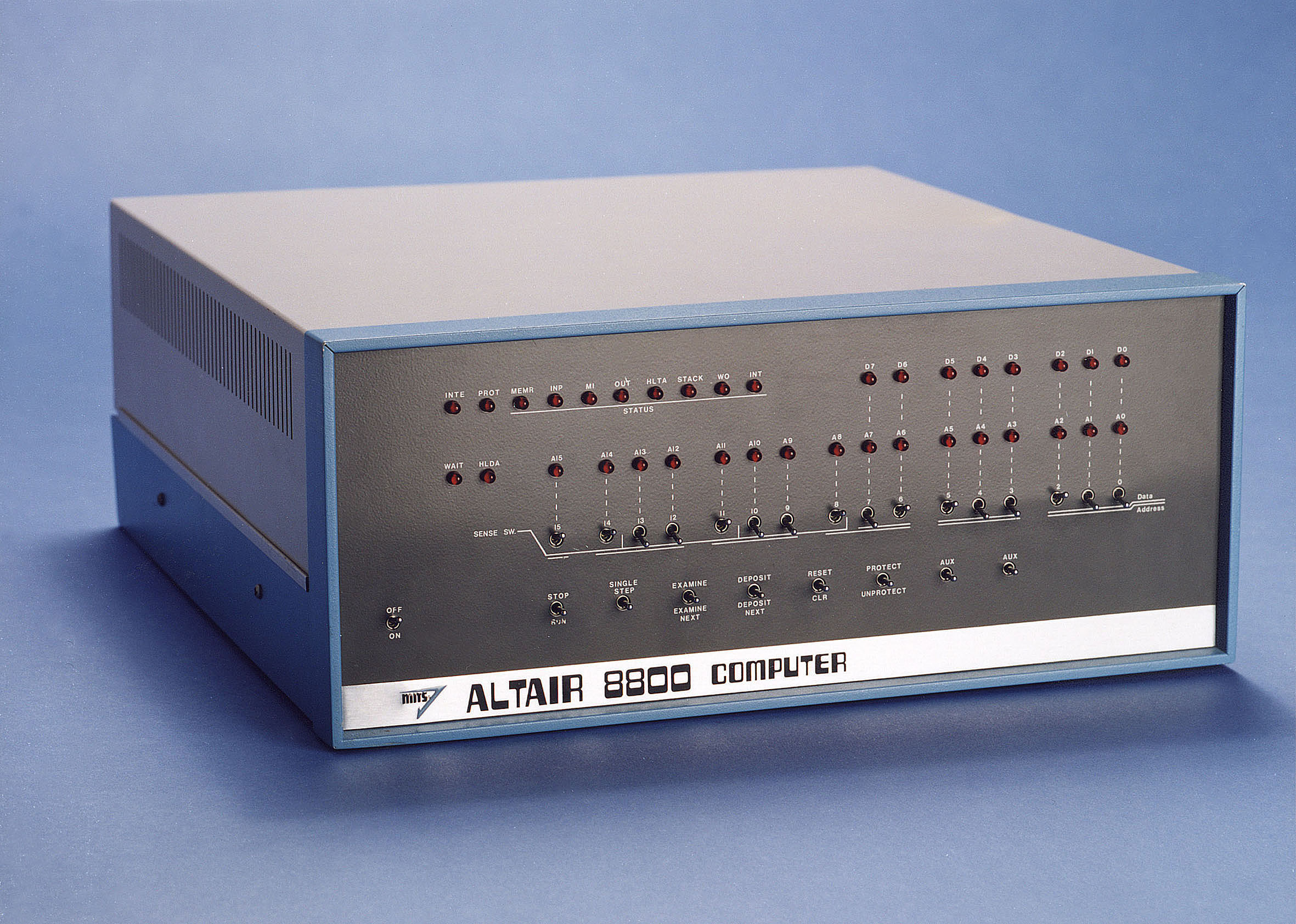 On a more sober note, I see that this week marked the demise of
Dr. Henry "Ed" Roberts,
the founder of modern micro computing, and the inspiration behind both Microsoft and Apple. I think many people think that the first home computer was the
ZX-80
by Clive Sinclair. He was indeed a pioneer of affordable computing for enthusiasts, but he was not the first by quite a long chalk. Henry Roberts invented the Altair 8800, the very first home computer, which was released in kit form back in 1975. It famously featured in the pioneering
computer hacking movie War Games
. The Altair 8800 inspired two university drop - outs called Bill Gates and Paul Allen of the then Micro - Soft (the hyphen disappeared a year or so later) to write a version of the Basic programming language for it, which they managed to deliver in 30 days - OK, when run it displayed "
Altair Basic. Ready >
" then crashed
*
, but it was their first piece of commercial software. The 8800 also inspired Steve Wozniak of Apple to create the
Apple 1 computer kit
a year later. This of course led on to the massive success of the Apple II and later the Macintosh range.
*
- I think this marks a tradition that Microsoft try to honour to this day.
I think that if you invent something, it is only a matter of time before it gets copied; the 11th regeneration of the Doctor is a case in point; with the exception of the bow tie, he wears exactly the same type of Harris Tweed jacket and moleskin trousers as I have been doing for some years (see below) - I wonder if I can get the look copyrighted?
This weeks' main video clip is of film critic and writer
Dr. Mark Kermode
reviewing the recent Star Trek movie reboot; his take on the film is very much in tune with my own. I re - watched the film a couple of nights ago with
Shirley
and the kids, who have been up to stay for Easter.
Shirley
was unaware of the existence of the film, which is quite surprising as she is a massive Trek fan (though her favourite show of the Trek off shoots is Voyager - go figure). She loved it, as did I.